Welcome to our DRAGON FORCE X Pozible Crowdfunding Campaign.
Do you like bizarre '80s action, adventure, fantasy or martial arts movies?
Do you like outrageous stunts, gratuitous violence and mind-blowing kills?
Do you like exotic locations, awesome foreign accents and kick-arse moustaches?
Then DRAGON FORCE X is the web series is for you!
Hi, I'm Stuart Simpson, writer, director and star of this brand new epic balls-to-the-wall '80s throwback beaming to you live from the internet. Think KNIGHTRIDER, INDIANA JONES, MANIMAL, SONS OF STEEL, THE A-TEAM and THE HIGHWAYMAN but done for a modern adult audience with heaps of cool gore and violence! Kind of like GAME OF THRONES but without all the English dudes.
See more exciting DRAGON FORCE X stuff by following us on social media

Following in the footsteps of such nostalgic fan pleasers as DANGER 5, KUNG FURY, STRANGER THINGS and HOBO WITH A SHOTGUN, DRAGON FORCE X is an adrenaline-fuelled, serialized, adventure series made by and-for fans of '80s TV and cinema.
"In a seedy underworld of scum and villainy, where magic and wonder have been perverted by greed and a lust for power, assassin-for-hire Maddox Montana travels across strange and exotic lands in search of the Amulets of Fire, an ancient mystical force with the power to change reality. Desired by many, worthy of few, what begins as just another job turns into the adventure of a lifetime for Maddox and his gang of misfits, as they discover the full power and glory of Dragon Force X"

The idea for this series came about from my recent travels around South East Asia. While on holiday in Vietnam I shot a short film called DRAGON FORCE for the TRASH-A-RAMA program at Monster Fest. The short was inspired by my love of the TV series MONKEY and films like BIG TROUBLE IN LITTLE CHINA, GOONIES, TIMESCAPE and a host of other action direct-to-video knock-offs that filled the shelves of my local video store when I was a kid. After winning the Audience Award for Best Short at Monster Fest I knew there was an audience out there who would be interested in seeing some more Maddox Montana stories and the idea to feature him in his own web-series was born.

The plan for Dragon Force X is that the show will run for 30 episodes with a new episode debuting twice a week on the Cult of Monster website. Thanks to family, friends and credit cards, we've been able to shoot the first 10 episodes, but that still leaves 20 more and we need your help to get us over the line.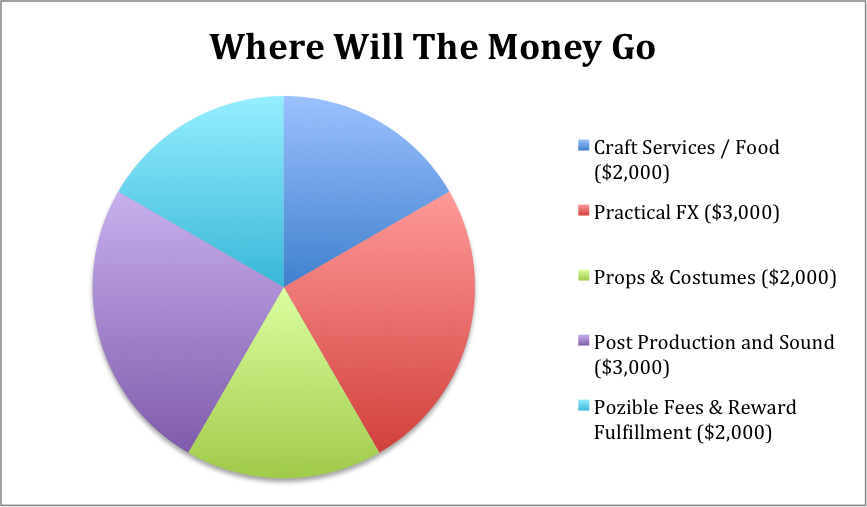 STUART SIMPSON - WRITER / DIRECTOR / "MADDOX MONTANA"
Stu has been making films for the last 20 years with three award winning features - CHOCOLATE STRAWBERRY VANILLA (2014), EL MONSTRO DEL MAR - or MONSTRO if you're from the UK (2010), THE DEMONS AMONG US (2006), more than a dozen shorts (including his segment, M IS FOR MUTANT in ABCs OF DEATH 2.5), and 20+ music videos. Stu is a man who wears many hats - from directing, writing, shooting, editing and providing the visual effects for his projects. He began working as a camera assistant and crane swinger in 1996 on ABCs live music program, RECOVERY and went on to become a camera operator for 10 years before moving into the TV studio as a director, which he has been doing for the last 10 years. He is currently a freelance director for ABC's news/current affairs program, THE WORLD. DRAGON FORCE X will be his first major role as an actor.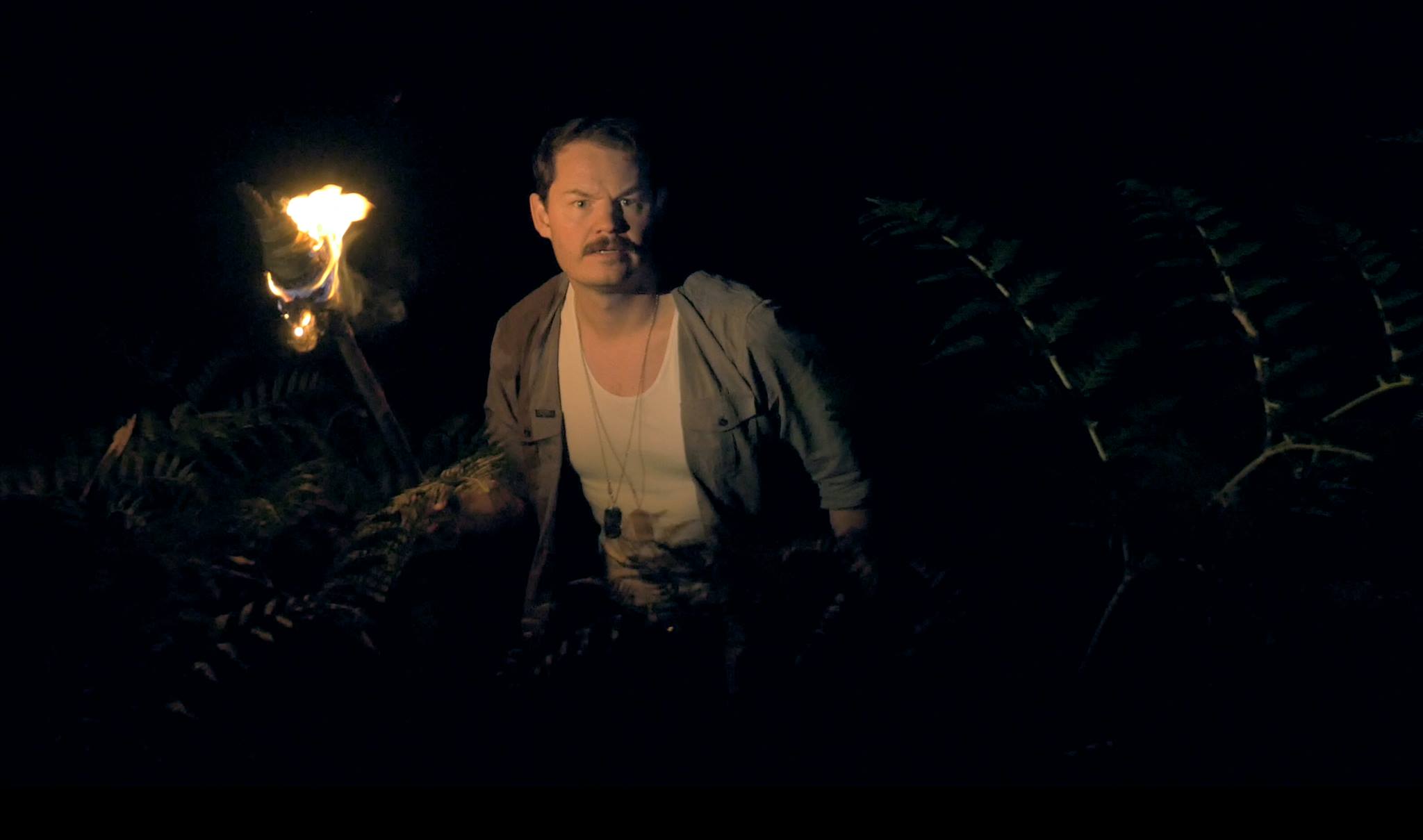 GLENN MAYNARD - "JEAN FRANCOIS", "NOLAN", "BIG TONY", "JEREMY THE COLLECTOR"
Glenn Maynard is a naturally gifted, well-hung, comedic and dramatic Aboriginal Actor with a wealth of experience in Film, Theatre and TV. Maynard has performed at the Melbourne Arts Centre in the 2013 season of BARASSI and in 2014 played the part of Albert in the MTC production of THE VISITORS. He has also toured both nationally and internation with an adaptation of Cathy Ploude's, YOU THE MAN, a one-man show tackling the issues of domestic violence, sexual assault and the bystander's responsibilities. Maynard's many screen credits include TV shows NEIGHBOURS and WILFRED as well as features FACE TO FACE (2011), CHOCOLATE STRAWBERRY VANILLA (2014), TURKEY SHOOT RELOADED (2014) and MONDO YAKUZA (2016).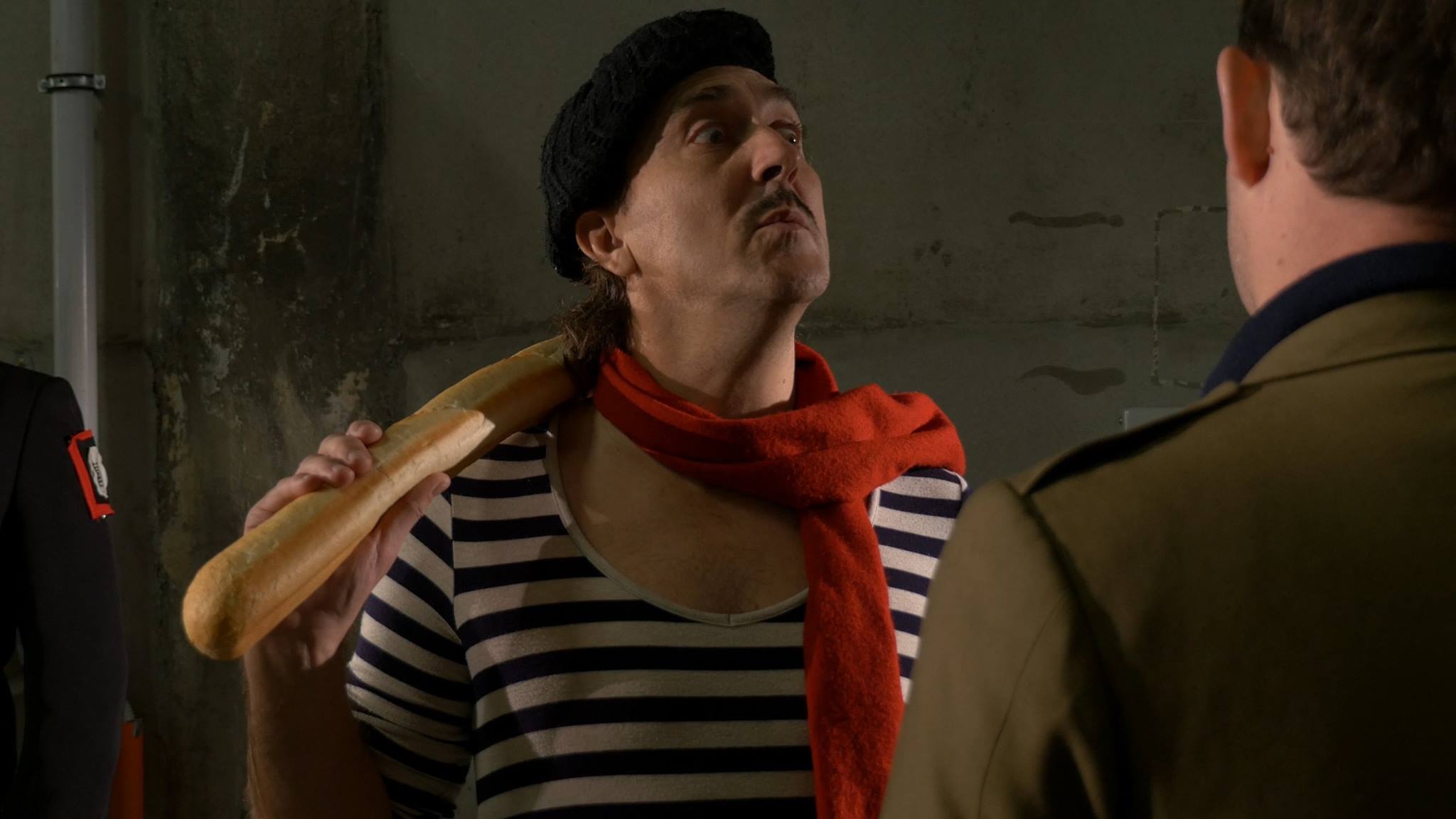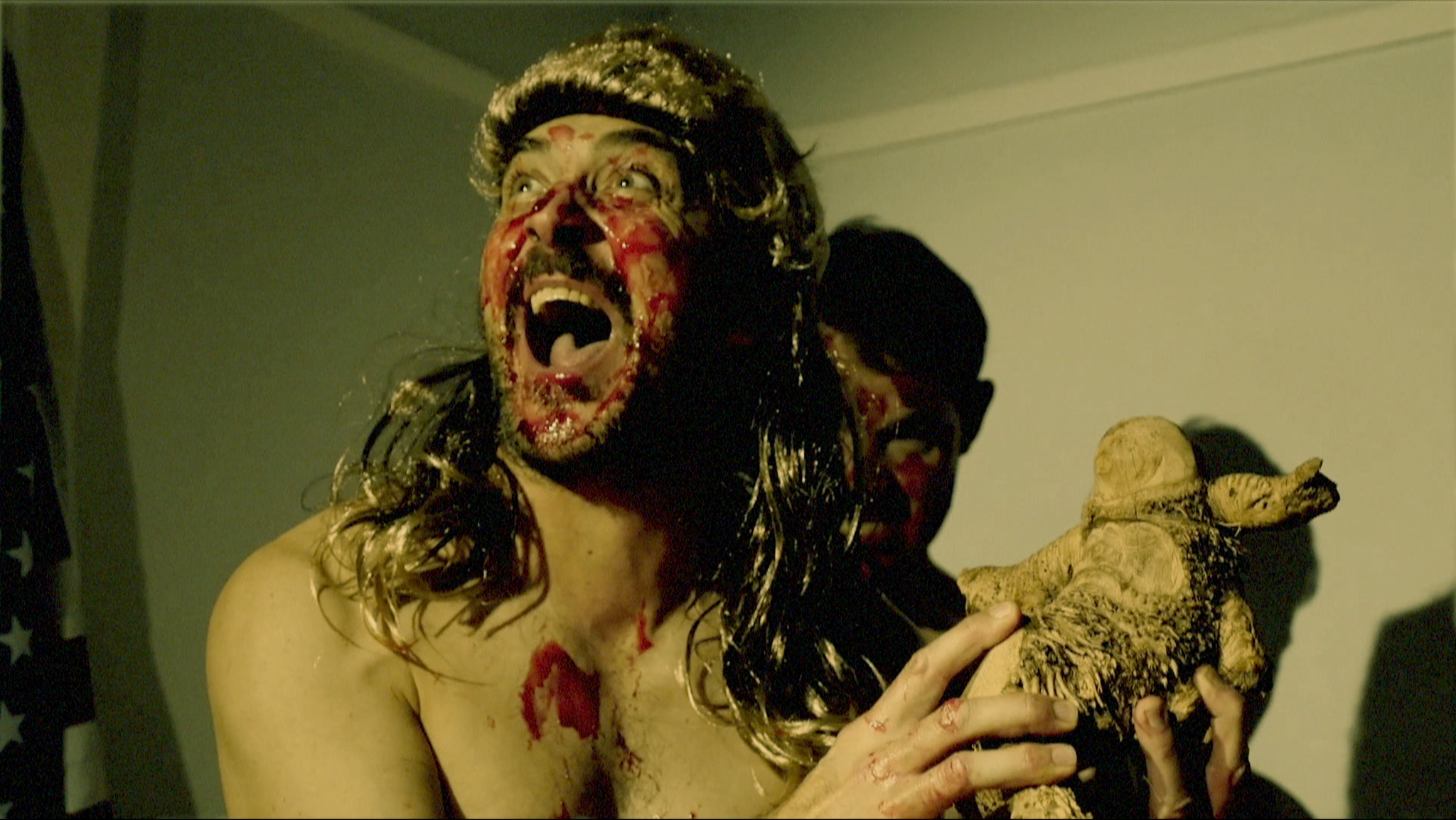 TIM JASON WICKS - "NIM NIM THE MONKEY MAN SIDEKICK"
Tim Jason Wicks has been acting for over 10 years. His credits include the short film DRIVE BY and features UNDER A KALEIDOSCOPE (2014), THE PERFECT NONSENSE (2016) and MONDO YAKUZA (2016). He enjoys long walks on the beach and a fine cognac.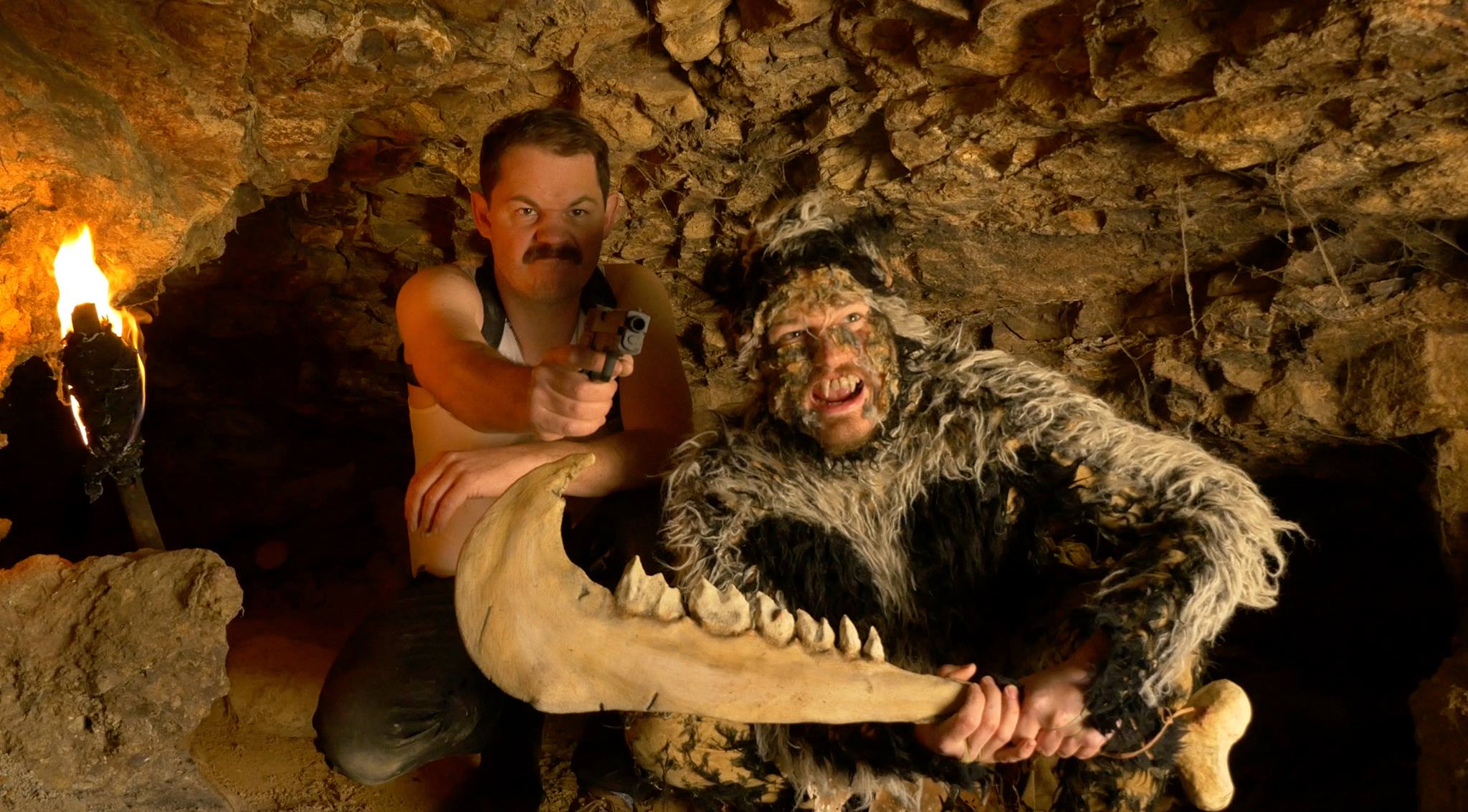 ASTON ELLIOT - "SNAKE EYES, THE BROOKLYN BRAWLER "
Starting out in theatre, Aston has appeared on stage at The Chapel off Chapel, La Mama and in events such as Midsumma and the Castlemaine State Festival. Aston's TV credits include SEACHANGE, NEIGHBOURS and THE WORST YEAR OF MY LIFE AGAIN, and in roles in feature films including VANISHED (2011), MONDO YAKUZA (2016) and with Stu in CHOCOLATE STRAWBERRY VANILLA (2014). He worked once again with Stu and reunited with his CHOCOLATE STRAWBERRY VANILLA co-star Glenn Maynard on M IS FOR MUTANT as part of THE ABCS OF DEATH 2.5. Aston is also currently rehearsing the role of Gregg in Tom Doyle's PINS AND NEEDLES to be performed at The Owl and Cat in October.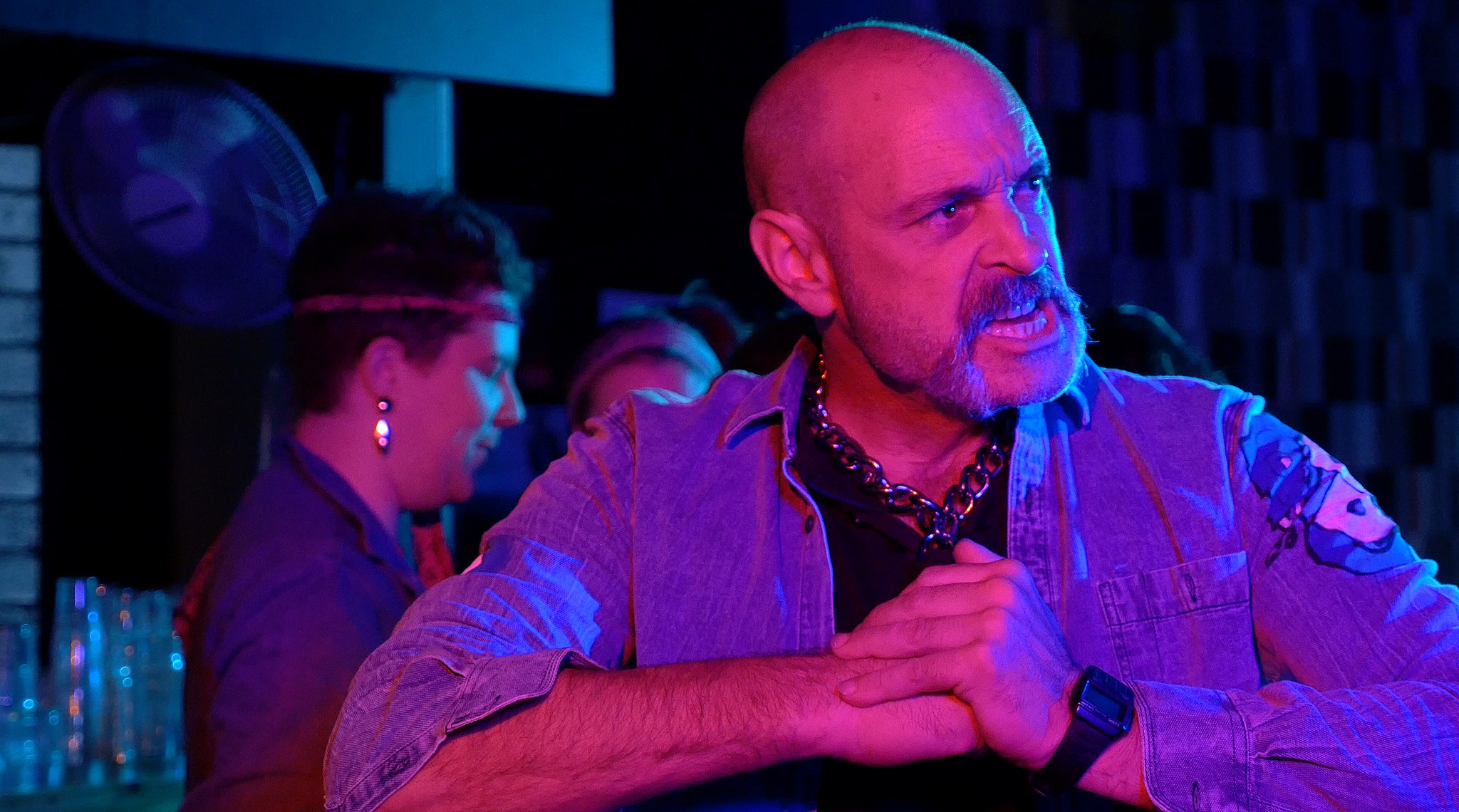 CHRISTINE CATALINA DIEFENBACH - "DALLAS"
Having originally started behind the scenes in the entertainment industry, Christine is an actress of mixed heritage who in recent years has gotten her start in front of the camera both as a presenter and working on various Australian feature films, short films and theatre productions. Her latest credits include the 2016 feature ACCORDING TO BEN ADAMS and the soon-to-be-released SOMETHING TO DO WITH DEATH.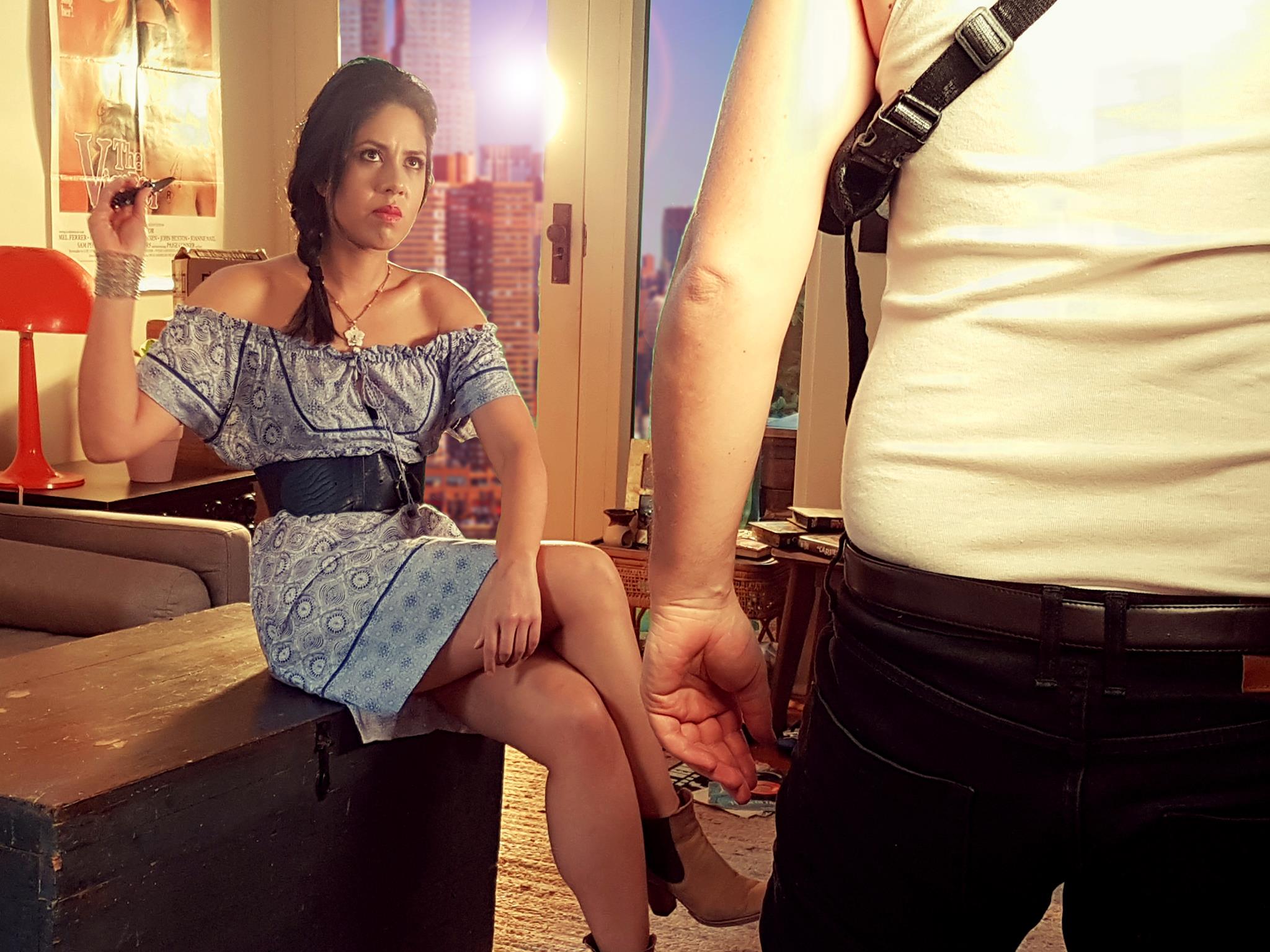 SASHA CUHA - "JIMMY SHU"
Sasha Cuha is a stage and screen actor known for playing villains and eclectic roles. His previous work includes MACBETH, COSSI and THE GLASS MENAGERIE. Sasha most recently starred in FAGS IN THE FAST LANE (2017) where he met Stu and since then has gone to work on several of his projects.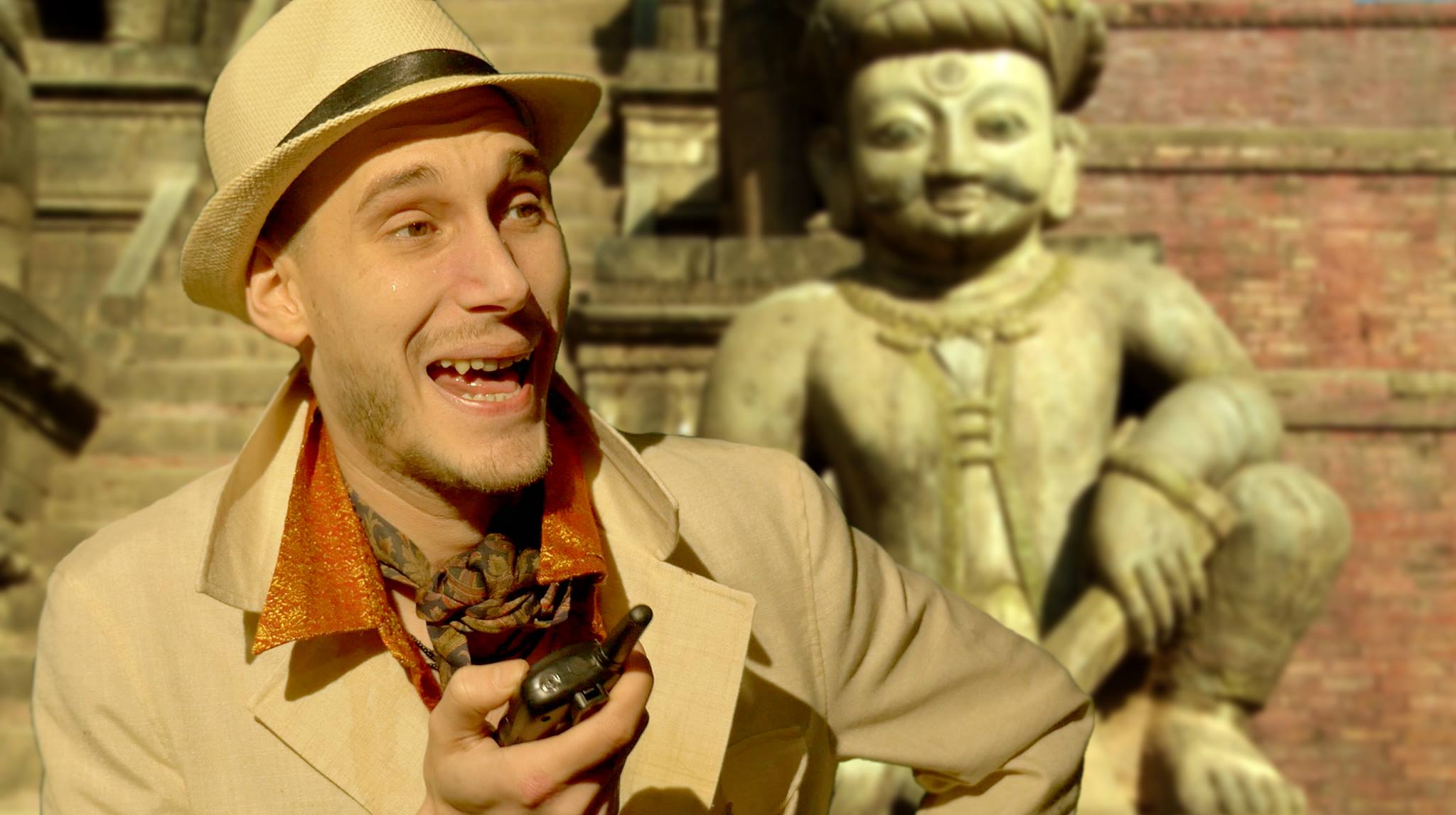 TOMMY HELLFIRE - "GENERAL SAUNDERS"
Tommy Hellfire is a multi-talented performer. Since debuting in the wrestling scene in 2007, he has headlined some Australia's biggest wrestling events, forming MCW and the international touring show Lucha Fantastica along the way. Since crossing over into the world of film, Tommy has starred in two Strongman Pictures produced movies MURDERDROME (2013) and SHEBORG MASSACRE (2016) both of which have gained an international following. In 2016, Tommy also had a starring role in Christopher Mitchell's Fantastic Fest award winning short film, IRON SPYDOR (2016).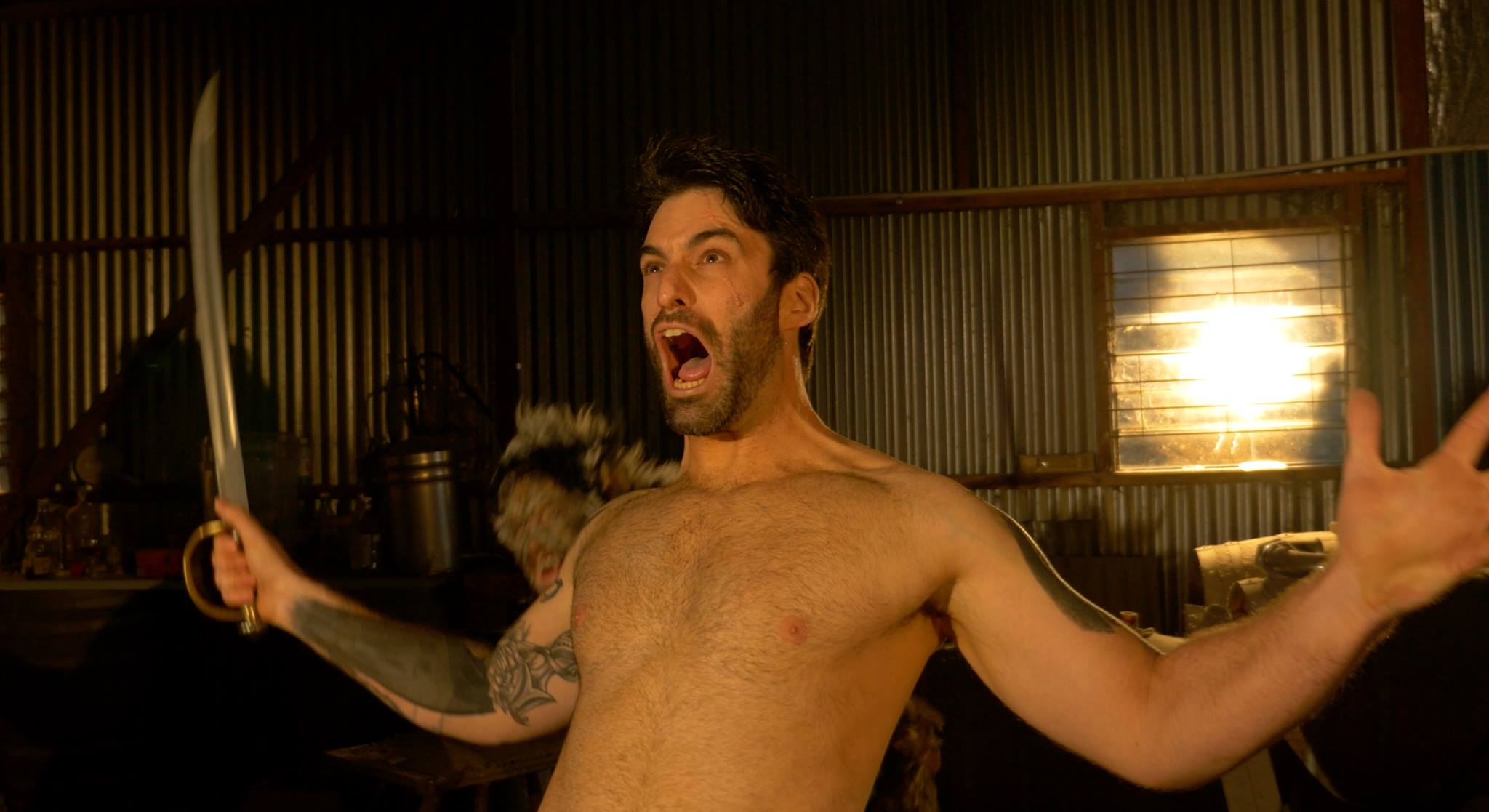 NICK KOSCIS - PRACTICAL / MAKE-UP EFFECTS
Nick Kocsis has been working in the special effects make-up field for 20+ years and he's responsible for many of the gruesome and gory killings and mameings in Simpson's previous films. On DRAGON FORCE X Nick will be getting his kicks covering actors in litres of blood, rubber, slime, dirt and other sticky un-washable substances - Nick enjoys watching actors suffer a little too much.
KERRA NOLAN - PRACTICAL / MAKE-UP EFFECTS
Kerra graduated from AACM last December with a Diploma in Cinemagraphic Makeup and has since been working on music videos, shorts, features and has participated in some Sharp FX workshops.
NOELLE CRIMINOVA - COSTUME & CHARACTER DESIGN
Noelle Criminova has a wardrobe that leads to Costume Narnia and does inappropriate things with a heritage Singer sewing machine - hell, her grandfather established the first port of call for Singer sewing machines in Brisbane, gifting her a sewing kit and tiny machine at age 5 (too young to be trusted, probably). She is also a comic book illustrator, and rattled about the Queensland theatre scene for over a decade, acting in everything from Wilde to Williamson.
ALEX MACHIN - ANIMATION
Alex Machin is the founder of Animachin studios and works exclusively in the medium of stop-motion animation, producing wild music videos, short films and commercials. Alex has recently moved into the world of feature films, producing the insane penis swamp monsters for the festival hit FAGS IN THE FAST LANE (2017). Alex also lectures in animation at RMIT and recently embarked on a volunteer journey to teach stop-motion in some of India's poorest schools.
TOR SILVER - SCULPTURE
Tor lives outside the box as a creator and sculptor of realities, having a wealth of experience and qualifications in multiple disciplines. He grew up building houses, creating gardens and making furniture before transitioning into hairdressing and set design as well as being an extra in plays. Most recently, Tor has focused on making armour and weapons (solid and soft), designing sets, clothing and costumes. Creating and sculpting from concept through design to finished product, Tor can manage all phases of the process. He is master craftsman and problem solver who can refine, design, develop and implement ideas by employing his unique and varied skills. Anything is possible!
JULIAN LAWRENCE - VFX ARTIST

Julian Lawrence comes from a creative background. His foundations lay in painting, photography, drawing and sculpture. It was a natural progression into animation and film, soon after completing an Advanced Diploma in Screen he found his niche designing and creating digital SPFX for films. Since then he has won several awards for his work, including a Maverick for "Best SPFX" for his work on EL MONSTRO DEL MAR (2011). His philosophy is simple, "every frame in film can be treated as a piece of art."
THE SCREAMING MEANIES - MUSIC
The Screaming Meanies is a composer of film scores, sound designer, DJ and fine artist who creates music inspired by trashy cinema, spaghetti westerns, giallos, old horror films, exploitation films, video nasties and synths. In 2013, The Screaming Meanies began working on actual films when he was commissioned to provide music for the feature-length documentary THE SEARCH FOR WENG WENG (2014). He has since provided soundtrack material for five feature films, and scores for multiple short films, including the original DRAGON FORCE short.
LUFFEGUN - MUSIC
Luffegun is an Australian electronic musician from central Victorias Goldfields realm. Inspired by artists like Daft Punk, Raydar, Daryl Hall and John Oates, Prince and Carpenter Brut, a definite new retro vibe is created exclusively through use of vintage and modern hardware synthesizers and sequencers.
AUDIO CHEMISTRY - SOUND DESIGN
Cliff Sanderson & Brad Every from Audio Chemistry
Cliff has spent the last 13 years working in every aspect of audio post-production from Sound Design, SFX & Dialogue editing, ADR and Mixing building a sizable catalogue of television series and films including Offspring, Rosehaven, Miss Fishers Murder Mysteries, Can't Win Do Try & Marital Problems. Brad has spent years in the local film industry most notably working on Marital Problems, Can't Win Do Try, Connection and the Docu-series Makers.